Slim Odd Leg Double Glazing
Narrowboats / Static Caravans / Sheds / Modular Buildings / Bespoke Projects
Manufactured to order from our Birmingham based factory.
Do you require product designs that are not on this site.... please contact us.
Static Caravan Windows - Upvc Static Caravan Double Glazing
Our Slimline Narrow Static Caravan Windows have reduced sight lines and a back to front depth of 48mm, perfectly suited to accommodate narrower wall construction found in Static Caravans.
The slim-line odd leg window sits on the external face of the building, giving a coverage of 19mm on all sides. A non-drying beading sealant or a neoprene foam tape is used around the external overlap, which when compressed during installation stage, becomes watertight and fills in any gaps within the external cladding giving a clean finish.
The double glazed static caravan window comes with 24mm double glazing for static caravans. For added security, the caravan window is glazed on double sided security tape. This means that the glass can only be changed from inside the static caravan for added security and peace of mind.

The glass is double glazed security glass and is bonded into the window using double sided security tape. Our narrow boat windows can only be deglazed from inside of the boat. Giving you extra peace of mind that you are safe on your narrow boat.
White cockspur handles are installed on all opening windows to ensure for tight secure locking from the inside.
Our products are manufactured to order. Our manufacturing time for white windows / doors are within 4 weeks, special foil & painted windows are within 8 weeks from order confirmation.
All our products are manufactured to order.
Our upvc caravan doors are extremely popular. Our double glazed caravan doors come with adjustable hinges so you can adjust the doors if they catch. Multi point locking system is installed as standard for security peace of mind.
Typical Window Cross Section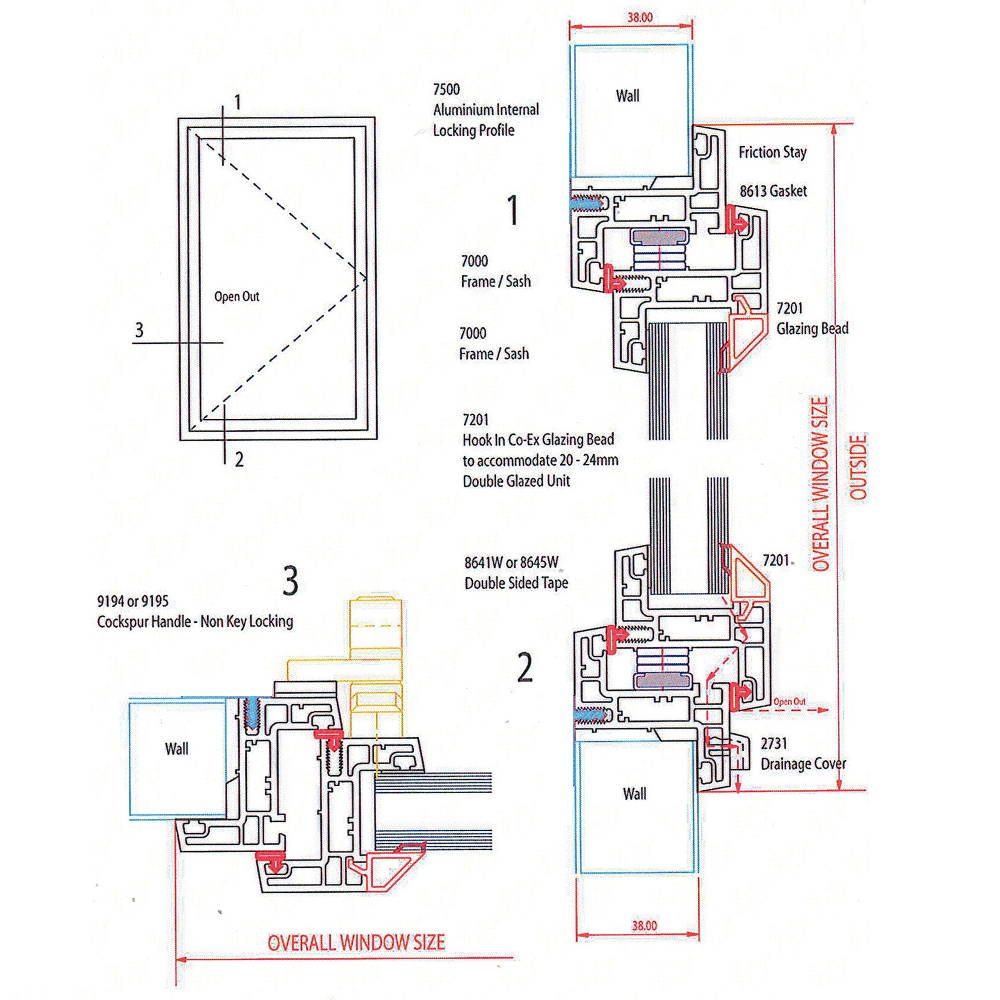 External Colour Options :
Price Band 1 (Standard) - White
Price Band 2 - Golden Oak (timber effect foil) / Anthracite Grey (timber effect foil)
Price Band 3 - RAL 7016 Anthracite Grey (painted)
Price Band 4 - Bespoke Colours - Any other RAL or BS colour. Write the colour name and code within the notes area.
Internal Colour Options:
Always Standard - White
Bespoke Option - (Painted internal colour options are available upon request.)
Please note that there is a 3 item minimum order for all non standard special colour finishes (price band 3 & 4).
Always measure from inside.
Remove any internal trim around the window to reveal the existing window. Simply measure the existing window. If the existing window is a very tight fit, reduce the overall size by 5mm to allow for easy installation.

Do not worry if you have rounded corners, these can easily squared off using a hand held oscillating saw. The corners do not need to be 'professionally squared' as the external overlap of the upvc window frame will cover the corners and therefore will not be seen.
The windows can be two ways dependent on the finish you require.
Aluminium Fixing Kit: Installed by knocking an aluminium fixing bar into the specially designed window, giving a secure clamp fix finish. The fixing bar then doubles up as an internal trim which sits flush to the inner wall. This is suitable for wall construction of 38mm or 53mm. Please contact us with any questions.
Screw Fix: If your wall construction differs than the above wall thickness, or you'd prefer to trim the internal surround of the window with the existing timber or an new timber beading then you can fix them using screw fix through the depth of the window frame into the timber subframe of the window. Simply open the vent and screw through the frame
You will need to seal the odd leg frame (external lip) with non drying sealant silicone. As the caravan is constantly moving, if you use standard silicone, it will crack and leak over time. You can also use a neoprene foam tape.
Choose another Caravan Window Style
Choose the Narrowboat Window Style